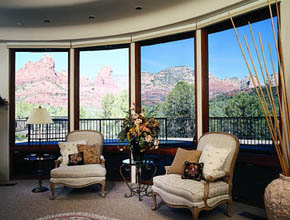 Today's residential solar control window films offer the homeowner an impressive array of technologies, which improves window efficiency by blocking 99.9% of the Sun's ultraviolet rays and rejecting up to 79% of the heat from sunlight, and eliminating glare. These films are designed to increase the "usability" of your home's natural lighting. By eliminating the negative features of natural light, your windows can be left uncovered and free of window treatments that interfere with your view, without the worries of outrageous cooling costs and faded furniture and carpeting.
Our previous residential customers report that they are saving as much as 32% on their electric bill after we treated their windows, certainly a dramatic example of savings, but representative of payback projections.
RWT offers free on-site consultations to help assess your particular exposure concerns. Because every homeowner has individual tastes and needs. We offer a wide variety of films ranging from light (where fading concerns are the primary solar problem being experienced) to Frosted (for privacy) or heavily tinted (for both privacy and extreme sunlight exposure problems).
Call or e-mail us today to arrange your free, on-site consultation and estimate.